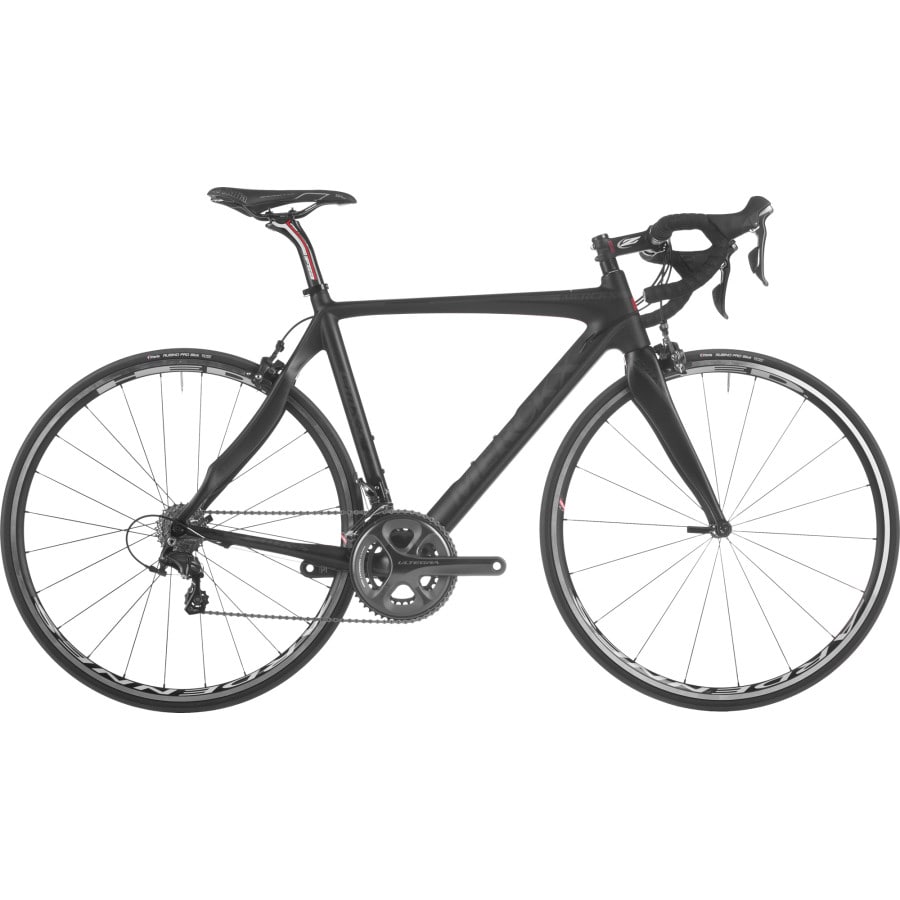 Merckx

EMX-5 Ultegra 11 Road Bike
Merckx EMX-5 was constructed using a full Carbon Laminate + layup. Essentially, this technique involves layering the carbon fiber sheets together in ways that maximize the strength and rigidity of the frame. This layup was combined with Merckx's Optimized Structural Reinforcement (OSR), which, as the name suggests, places high modular (50HM/HS) stiffness fibers in strategic areas for added reinforcement. These fibers were used in conjunction with high-strength fibers at force-load-heavy zones, such as the BB86 bottom bracket and head tube junctions.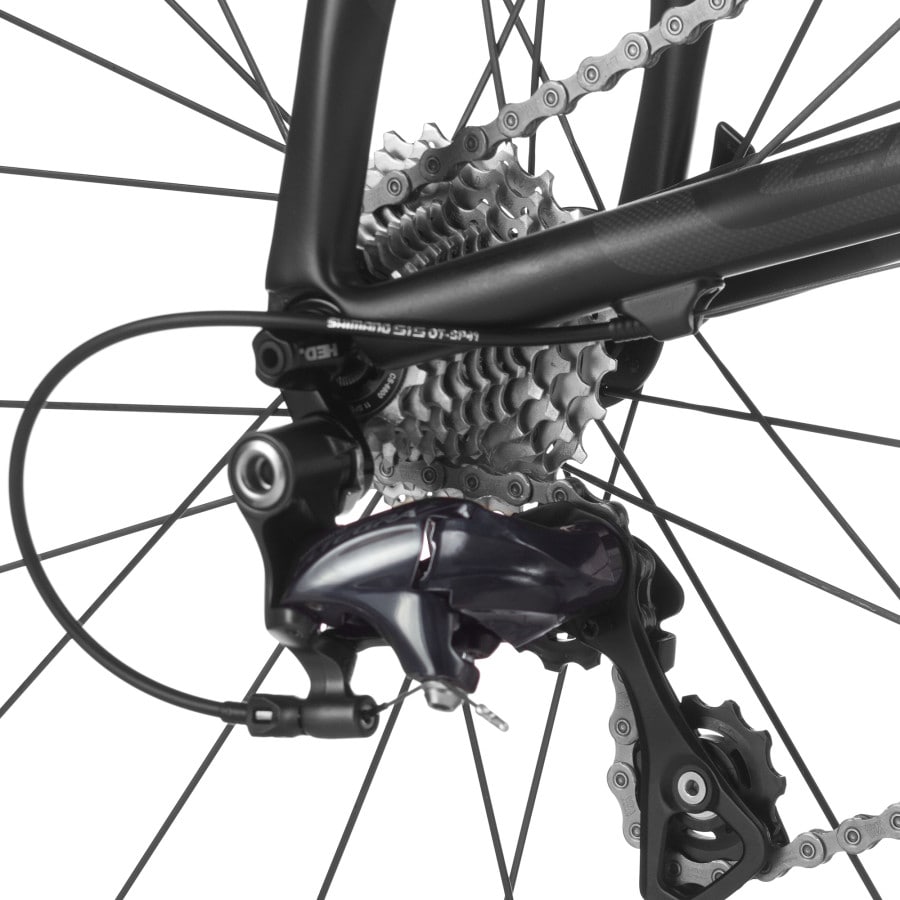 EMX-5, Shimano's new Ultegra 11-speed groupset was used to complete the build. When Shimano revamped its trusted Ultegra groupset under the new 11-speed 6800 banner, it did so only after carefully studying the mechanics of its flagship Dura-Ace 9000 mechanical group. Now, Ultegra provides a near mimic of Dura-Ace's 11-speed functionality and aesthetics. As for the particulars of the build, the EMX-5 features a 50/34t crankset and an 11-25t cassette. The group has been paired with the a HED Ardennes LT wheelset that's been cased in Schwalbe Lugano clincher tires. Finishing the build are Zipp's Service Course handlebar and stem, while a Selle Italia SL Kit Carnonio saddle sits on an FSA post.
Merckx EMX-5 Ultegra 11 Road Bike is available in six even sizes from 50 to 60cm and in the colors Matte Black, Red/white, and White/black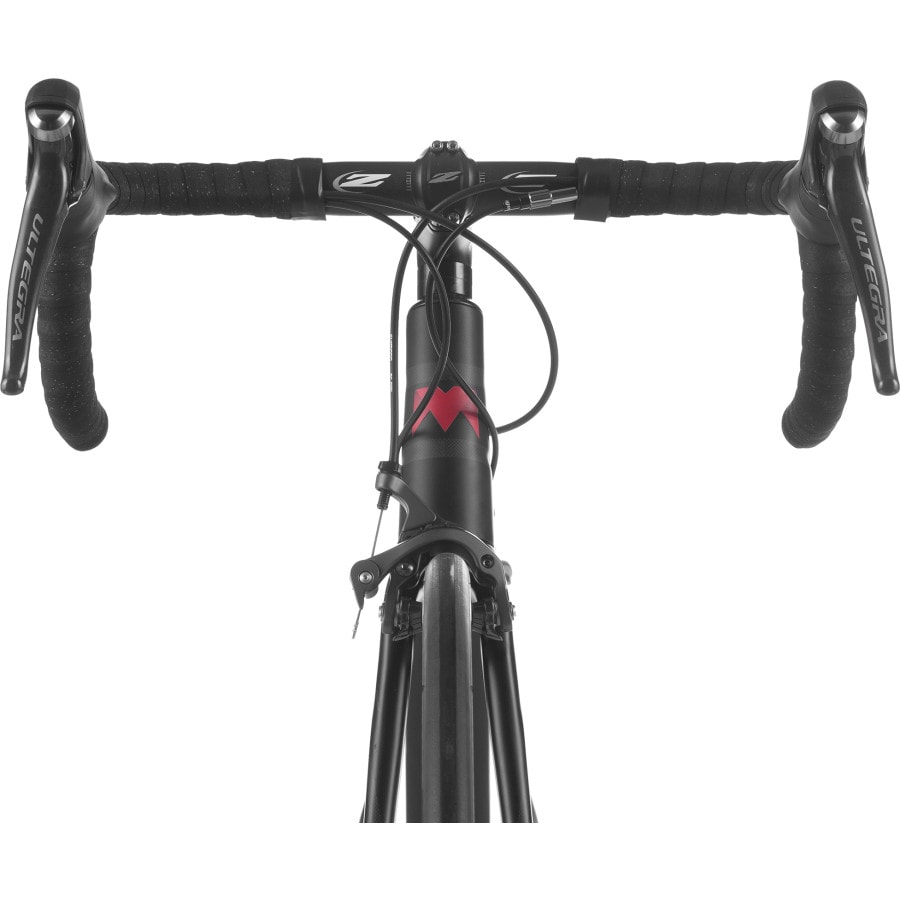 Frame Material:
Carbon OSR 50HM1K
Fork Material:
carbon fiber
Headset:
1.125 x 1.5 in FSA
Shifters:
Shimano Ultegra 6800 11-speed
Front Derailleur:
Shimano Ultegra 6800
Rear Derailleur:
Shimano Ultegra 6800
Crankset:
50/34 t Shimano Ultegra 6800
Crank Arm Length:
[50cm] 170 mm, [52, 54, 56cm] 172.5 mm, [58, 60cm] 175 mm
Bottom Bracket:
Shimano Ultegra SM-BBR60
Cassette:
11-25 t Shimano Ultegra CS-6800
Brake Levers:
Shimano Ultegra 6800
Brake Calipers:
Shimano Ultegra 6800
Handlebar:
Zipp Service Course
Handlebar Width:
[50cm] 42 cm, [52, 54, 56cm] 44 cm, [58, 60cm] 46 cm
Handlebar Drop:
short/shallow
Stem:
Zipp Service Course
Stem Length:
[50cm] 90 mm, [52, 54cm] 100 mm, [56cm] 110 mm, [58, 60cm] 120 mm
Saddle:
Sella Italia SL Kit Carbonio
Wheelset:
HED Ardennes LT
Tire Size:
700 cm x 23 mm
Recommended Use:
road racing and training
Manufacturer Warranty:
limited lifetime on frame
Actual Weight:
Matte Black, 54cm: 7,370g